Patrick Casey, Executive Director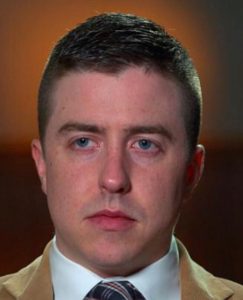 Alias: Steven Bennett, Reinhard Wolff, McLoving
Twitter Profiles: @PatrickCaseyIE, @Contentmancy
UPDATE: Patrick is now living in the Washington DC area with Matt Warner
Lived at 540 Broad St. Harrisonburg, VA
Red Ford Fusion WV DWH529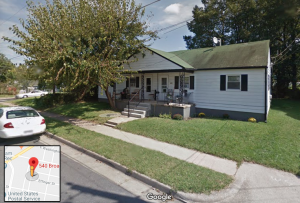 Harrisonburg Residence (above), Casey's car outside (below)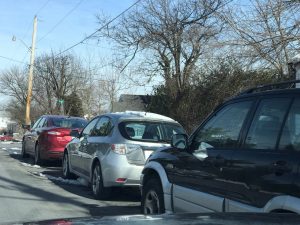 Seen in Richmond, Virginia
BACKGROUND
Patrick Casey is the third and current Executive Director of Identity Europa. He rose through the ranks of the organization, perhaps out of sheer attrition, being active with the organization since its early days in 2016 when he was a student majoring in Anthropology at San Diego State University in California. Identity Evropa was founded by violent ex-Marine Nathan D'Amigo who became radicalized in prison and was present at the Unite the Right Rally in Charlottesville in 2017.
According to research by Northern California Anti-Racist Action (NoCARA):
"[Casey] started thinking about race in 7th grade when he moved from all-white private schooling to a public school (oh the horror) where he experienced a shock as he started having to go to school with black students and kids that didn't grow up with a silver spoon in their mouth. At 18-19, he developed an interest in conspiracy theories, and after moving through an "Alex Jones phase," is now making videos about conspiracies for Red Ice, which itself moved from using videos and podcasts to talk about conspiracies to full on Neo-Nazism.

"[Casey] credits former KKK and Neo-Nazi leader David Duke and [Casey]'s 4chan activity during George Zimmerman's trial for killing Trayvon Martin as additional influences on his political views."
Until his recent announcement, Casey continued to create and produce racist "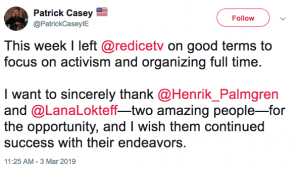 identitarian" content for Red Ice Radio in addition to playing corporate daddy to his underlings, many of whom are undergrads themselves. On Discord, this often takes form as the weekly "Fireside Chats", where Papa Casey updates members on recent happenings, the "white pill" of the week, and upcoming plans for the organization. Way to quit your day job.
Casey in his salad days
sweet hat bro
Patrick is yet another example of young white men trying to find solace in the conspiratorial crevices of the internet, only to have their worldviews continually warped by exploitative ogres like Alex Jones and Henrik Palmgren. Casey indeed though has internalized much of this and has embraced a suit-and-tie aesthetic while actively working to distance the organization from other openly alt-right and white supremacist branding. It is well enough for those other Nazis, who often deride IE (optics cucks) for their formal sense of fashion, their demo outfit of choice being the white polo and khaki trouser.
STRUCTURE OF IDENTITY EVROPA
After Nathan Damigo's departure post-Unite The Right, and then Elliot "Eli Mosely" Kline's meteoric fizzle in November 2017, little Patrick Casey, then IE "Chief of Staff", decided it was his turn for big boy pants and has been crafting his veneer of delicate dictatorship ever since. In fact, instead of the 14 words, the IE Discord Server has 14 rules, posted by William Clark of Philadelphia, (@sigruna14) the National Server Administrator.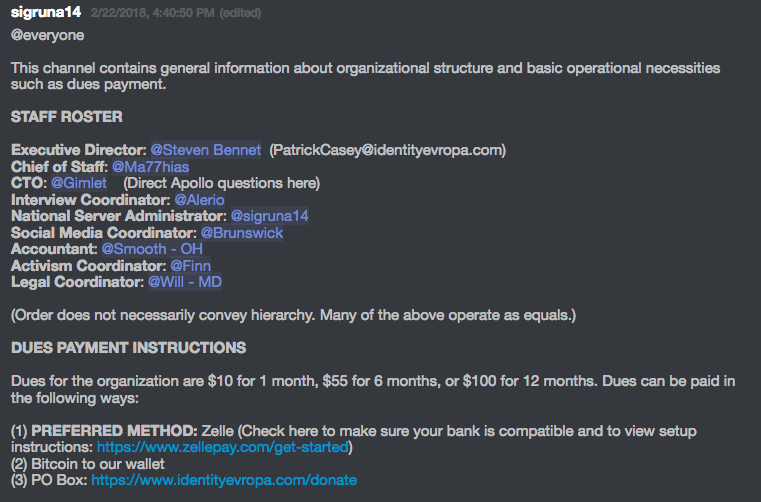 Here we can see a clear picture of IE's organizational structure as of February 2018
IE's mail address is listed on their website as a PO Box in New Market, Virginia. New Market is a small town in the Shenandoah Valley on Interstate 81, about 20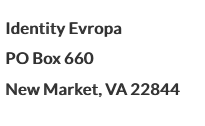 minutes north of Harrisonburg (pop. 54,000) and James Madison University (student pop. 22,000).
Rubicon Holdings LLC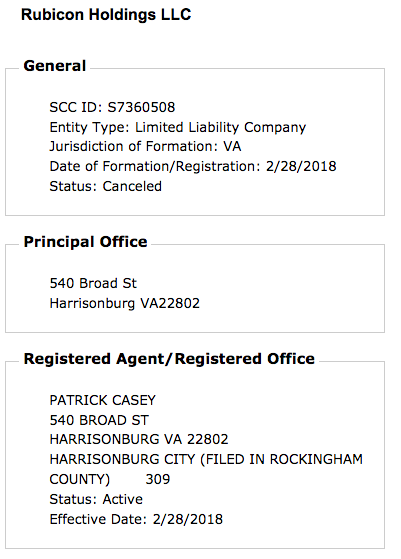 In May 2018, @Smooth – OH announced the new business PayPal and Gmail account for payments – Rubicon Holdings LLC.
A cursory search of the Virginia State Corporation Commission reveals that Patrick Casey is the registered agent, forming the shell company on February 28, 2018, shortly after assuming the top leadership position of Identity Europa. As of February 4th, 2019, the company's status was listed as "Canceled".
Casey and other IE leadership have been concerned about the group's ongoing legal battle stemming from the Unite the Right rally in 2017 and its immense financial consequences. In several posts on their Discord sever, Casey pleads with members to not only pay dues but also get donations flowing to up to $2,800 per month to their legal defense. These researchers wonder if Casey and Rubicon Holdings are really operating their business in a legal manner, "legality" being a pillar of Casey's vision for IE, especially as they continue to fleece their members going into their 2019 conference.

Casey Brags About Not Being Doxxed in a Fireside Chat

CULT OF PERSONALITY
Patrick has worked to build up a cult of personality around himself and his delicate dictatorship. Patrick tenderly enforces his 14 rules on the server, while also encouraging gentle ribbing of fellow members and twisted idolizations of himself. While one could chalk much up to typical internet trolling and joking, given Casey's position as the head of a white supremacist/nationalist organization, it is no laughing matter.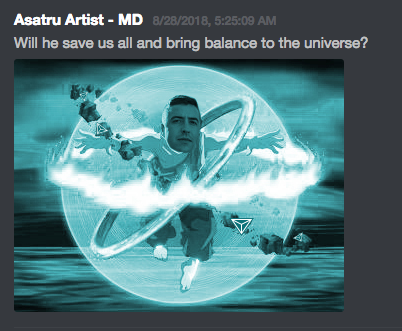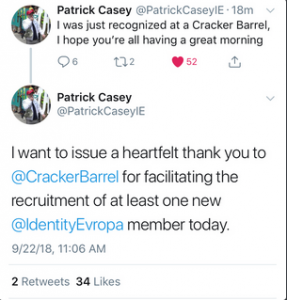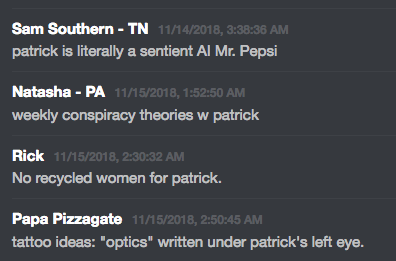 Occasionally things can take a bit weirder tone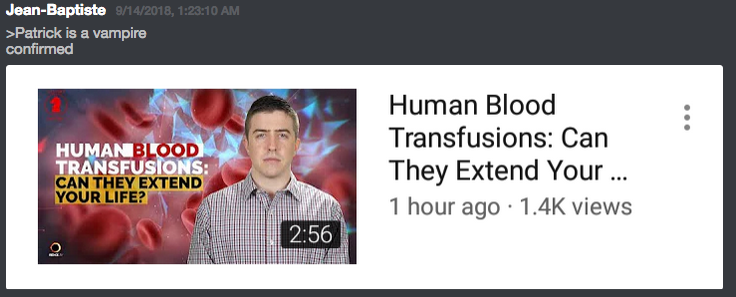 Sometimes it's all for the evropa love…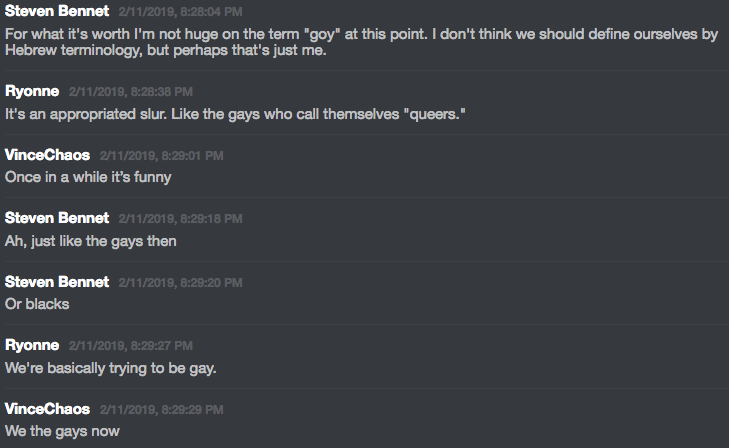 but not too much because homosexuality is not allowed in IE

IDENTITARIANISM IS DANGEROUS
As Patrick and his other upper echelon cronies try to keep their brood in check online, he advocates attempts to take over of the Republican party. Identity Evropa's relatively clean-cut optics and ethnic nationalism poise them to potentially be a radical faction of the GOP, pushing policies and ideologies akin to that of Stephen Miller, Trump's current senior policy advisor.

IE pushes white nationalist propaganda activism (largely stickers and banner drops) to the forefront while trying to keep their true racist separatist values under wraps until they have a hold on some sort of social or political power. Patrick himself was blocked from attending the Conservative Political Action Convention (CPAC) in 2019, however, he still managed to host other "fringe conservatives" in his suite at the Gaylord, the same hotel CPAC was being held at.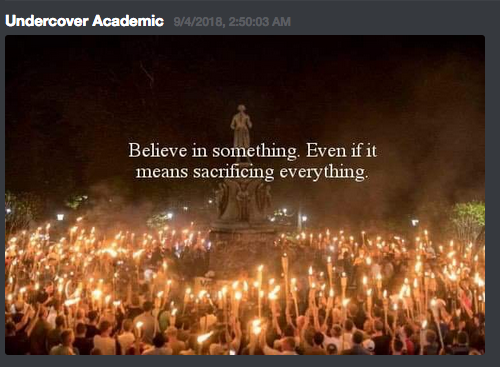 Text from Colin Kapernick's Nike campaign pasted over an image of the torch rally in Charlottesville, VA from August 11, 2017
The Torch Antifascist Network and our allies across the continent are dedicated to exposing, deplatforming, and defeating Identity Evropa and all other white nationalists, white supremacists, and fascist hopefuls.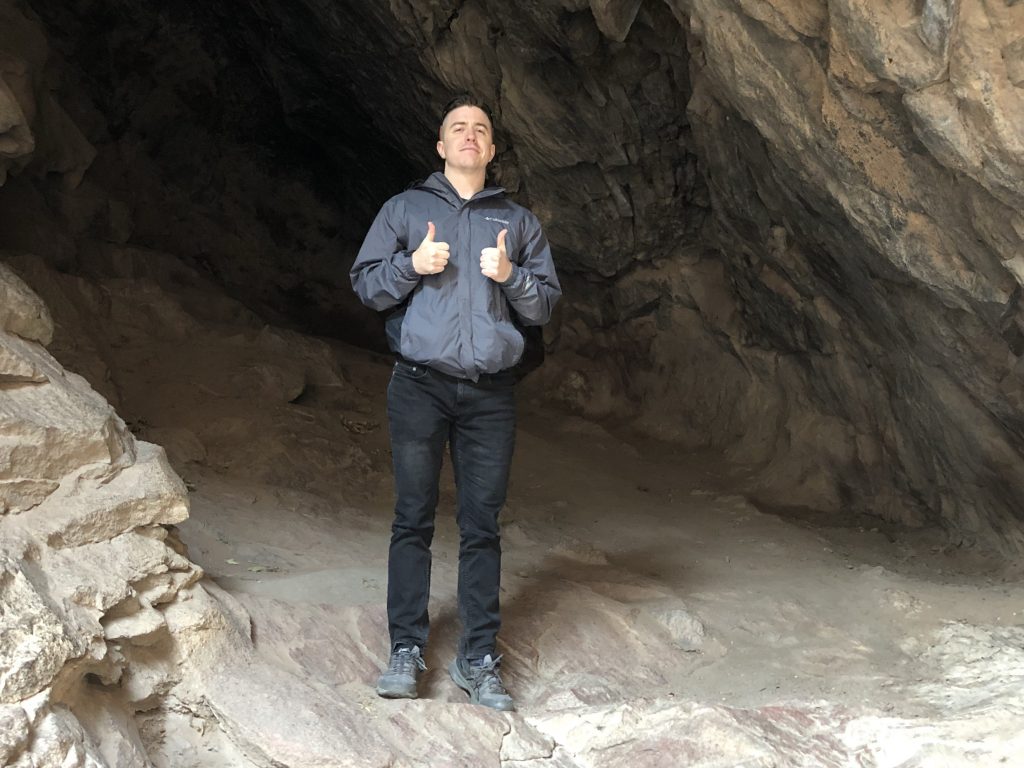 Honestly the best advice to any of these people